Fotografi Produk yang Instagrammable dengan Kamera Ponsel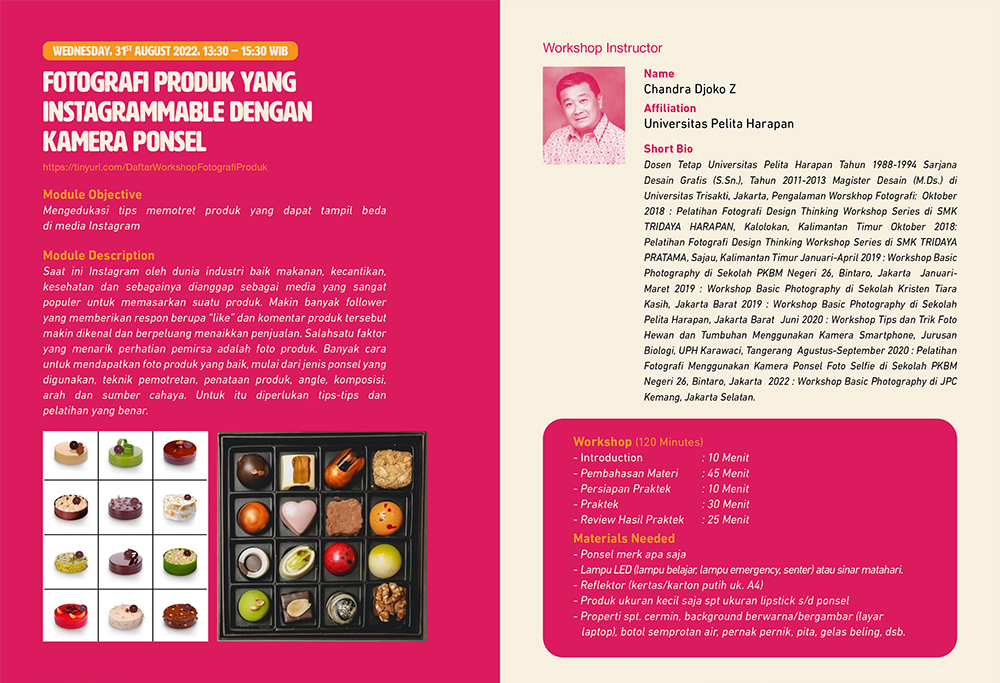 Workshop by: Chandra Djoko Zuki, S.Sn., M.Ds.
Online Workshop conducted at
Wednesday, 31th August, 2022
13:30 – 15:30 WIB/GMT+7
Saat ini Instagram oleh dunia industri baik makanan, kecantikan, kesehatan dan sebagainya dianggap sebagai media yang sangat populer untuk memasarkan suatu produk. Makin banyak follower yang memberikan respon berupa "like" dan komentar produk tersebut makin dikenal dan berpeluang menaikkan penjualan. Salah satu faktor yang menarik perhatian pemirsa adalah foto produk. Banyak cara untuk mendapatkan foto produk yang baik, mulai dari jenis ponsel yang digunakan, teknik pemotretan, penataan produk, angle, komposisi, arah dan sumber cahaya. Untuk itu diperlukan tips-tips dan pelatihan yang benar.
For this workshop, you would need to prepare:
Ponsel merk apa saja
Lampu LED (lampu belajar, lampu emergency, senter – yg penting LED) atau sinar matahari
Reflektor (kertas/karton putih uk. A4)
Produk ukuran kecil saja spt ukuran lipstick s/d ponsel
Props spt. cermin (sebagai alas/reflektor)
background berwarna/bergambar (bisa printed atau pakai layar laptop)
botol semprotan air (efek mist), gelas kaca beling (efek lighting), kertas mika warna (efek warna pada lighting), dsb.
Webcam Zoom utk menyorot praktik yg dilakukan peserta agar bisa direview oleh instruktur
The workshop will be delivered in Bahasa Indonesia
---
Engagement & Social Innovation with Design Thinking Approach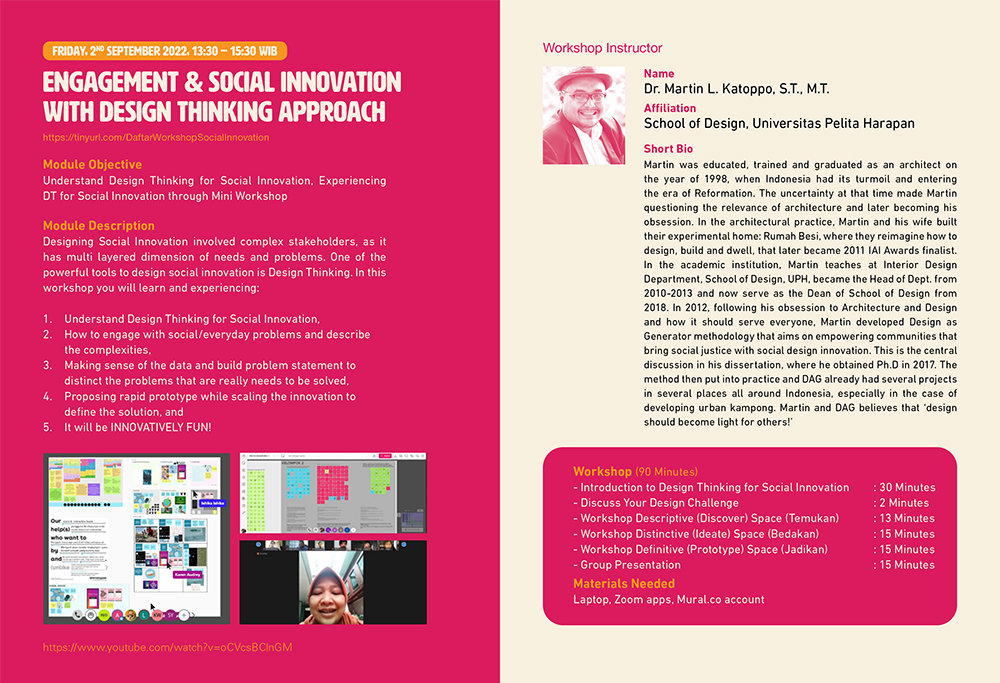 Workshop by: Dr. Martin Luqman Katoppo, S.T., M.T.
Online Workshop conducted at
Friday, September 2nd, 2022
13:30 – 15:30 WIB/GMT+7
Designing Social Innovation involved complex stakeholders, as it has multi layered dimension of needs and problems. One of the powerful tools to design social innovation is Design Thinking. In this workshop you will learn and experiencing: 1. Understand Design Thinking for Social Innovation, 2. How to engage with social/everyday problems and describe the complexities, 3. Making sense of the data and build problem statement to distinct the problems that are really needs to be solved, 4. Proposing rapid prototype while scaling the innovation to define the solution, and 5. It will be INNOVATIVELY FUN!\
For this workshop, you would need to prepare:
Laptop with Zoom
Mural.co account
The workshop will be delivered in English.